Nigeria's Central Bank today notified banks and other financial institutions to close customer accounts that are used to trade cryptocurrencies and other related transactions. The bank warned these institutions against doing business in crypto and other digital assets.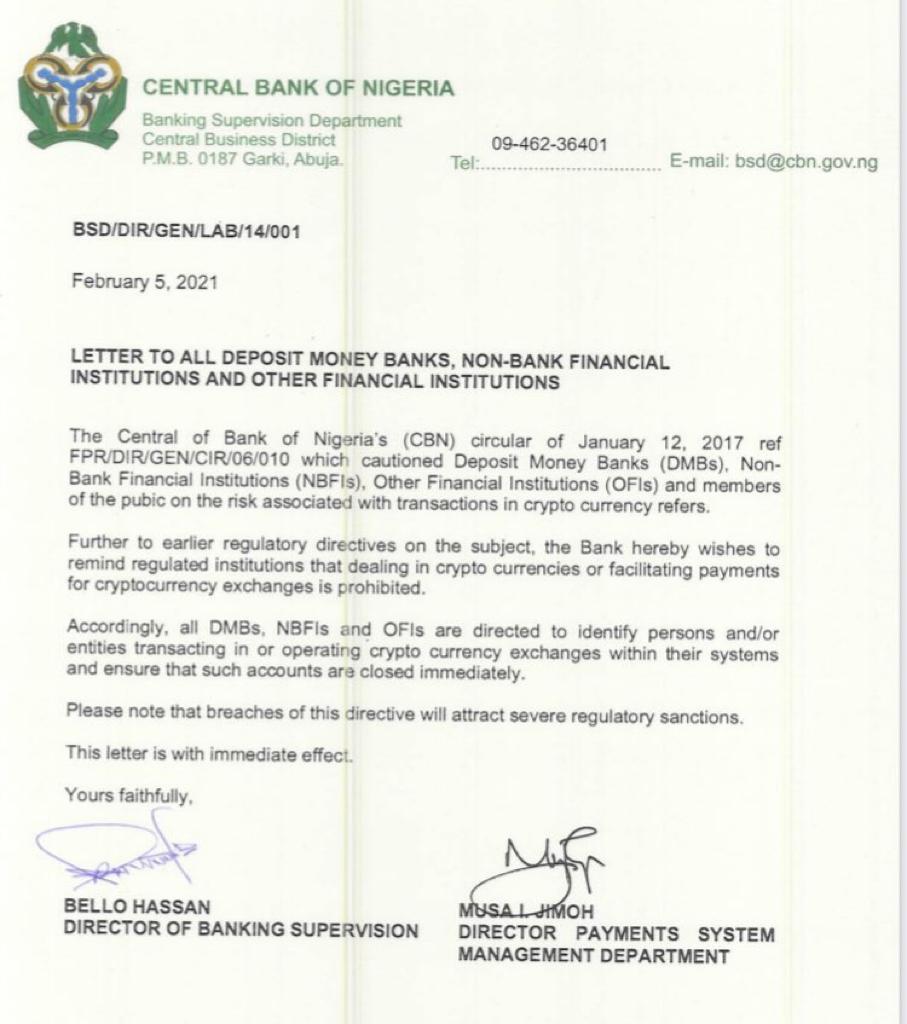 In a circular making rounds on social media and dated 5th February, 2021, the country's apex bank instructed local financial institutions not to have any transactions in crypto or facilitate for crypto exchanges, payments. The bank added that breaching its directive will attract severe regulatory sanctions.
This is not the first time the Central Bank of Nigeria (CBN) will take a strong stance against cryptocurrencies. In 2017, the bank said it would provide no licensing for cryptocurrencies and that any transactions that went through them is not protected by Nigeria's law.
Last October during the #ENDSARS protests, the bank froze some accounts of young Nigerians involved in the protests' fundraising. These fundraisers switched to accepting payments in cryptocurrencies which left the bank helpless in blocking donations inflow. Furthermore, Nigerians have adopted crypto transactions to avoid the many challenges that comes with traditional money transfer services.
We reported that Nigeria is the country with the second largest bitcoin by trading volume. Data from Paxful, a leading peer-to-peer bitcoin marketplace, showed that Nigeria have traded 60,215 bitcoins, or more than $566 million.
Nigeria in focus:
Population: 200.9 million (2019)
GDP: $448.12 billion (2019)
GDP Per Capita: $2,229 (2019)
Comments