Dubbed to be the country's largest telecommunication network, the telecom firm MTN has received final approval from Nigeria's Apex bank to run Mobile money (MoMo) Payment Service Bank. This approval grants MTN the right to fully operate the bank in the country after launching in 2019. The MTN mobile money (MoMo) is a secured electronic service that allows users, to send and receive money, store funds and make payments conveniently.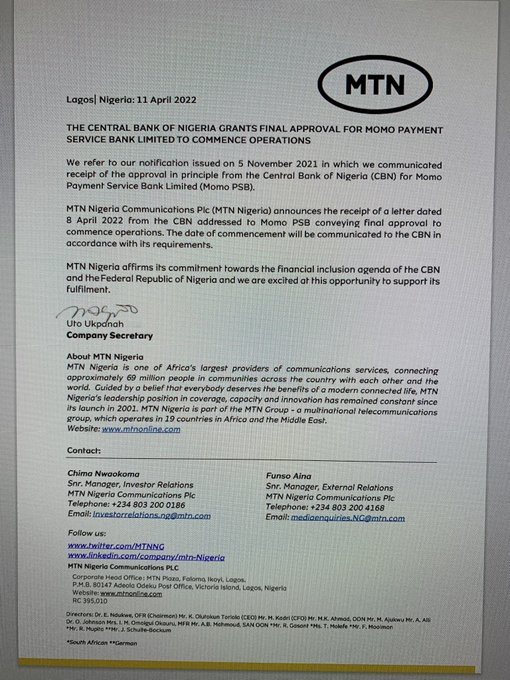 ‌‌As Telecommunications companies like MTN thrive to foster financial inclusion in Nigeria, MTN MoMo enters the country's market to provide people with the full benefits of digital financial services. Over 30 million Nigerians remain completely financially excluded amounting to over N20 trillion circulating outside traditional banks. MTN will seek to incorporate this unbanked population into the financial space through its services and by creating job opportunities. Automatically tackling issues around employment and contributing to Nigeria's economy.
‌‌Following MTN's launch into full operations, Nigeria will join its West African regional peers in the promotion of digital and financial inclusion via mobile money. MTN Nigeria, through mobile, can further look towards growth in the country beyond telecommunication. MTN will also hope to leverage its success in the telecommunication market using its network to reach both urban and rural areas in the country.
‌‌Nigeria in focus:
Population: 206.1 million in 2020 as compared to 201 million in 2019
‌‌GDP: $432.3 billion compared to $448.1 billion in 2019
‌‌GDP per capita: $2,097 in 2020 compared to $2,229 in 2019
Comments