"Bank recharge channels are unavailable." This was the message received by the MTN users on the 2nd of April.
This message implied that MTN users would be unable to recharge their MTN line using USSD code and carry out certain transactions jointly offered by both MTN and commercial banks.
The primary reason customers were unable to access this service was the disagreement between banks and MTN on banks' commission, which was reduced by the mobile network operator from an average of 3.5% to 2.5%.
MTN's reluctance to revoke their policy led to all the commercial banks connected directly to MTN, except Zenith Bank restricting MTN from their banking channels.
The telecom giant has responded by exploring other options. Funso Aina, Senior Manager, External Relations, on April 3, 2021, revealed in a statement issued by MTN that customers could recharge airtime by dialling *904# and *606#. The company is now exploring alternative payment channel to enable their customers to recharge through their phone.
In a statement released by MTN, "It will interest you to note that for the benefit of our customers who have been greatly inconvenienced by the service suspension, we now have alternative channels of accessing MTN services electronically.
Some of these channels include; OPay (app), Carbon (app), Kuda (app), BillsnPay (app and web), myMTN Web, Momo agent *223#.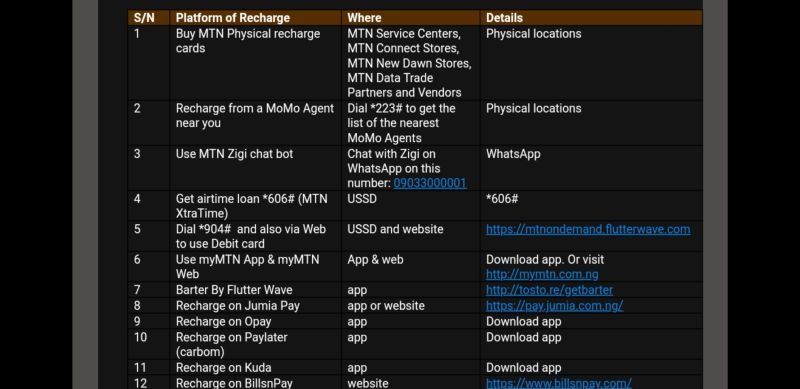 Nigeria in Focus
Population: 200 963 599
GDP: $448.12 Billion (2019)
GDP per capita: $2,229
Comments