Ecobank Group and the Pan African Payment Settlement Service (PAPSS) have signed a memorandum to enhance the settlement of cross-border transactions of the Group. The MOU between Ecobank and PAPSS was signed during the 30th Afreximbank Annual Meetings opening ceremony in Accra, Ghana. Launched in 2022 by African Export-Import Bank (Afreximbank), PAPSS is a financial market infrastructure that offers a secure and efficient channel for processing cross-border payments at low cost.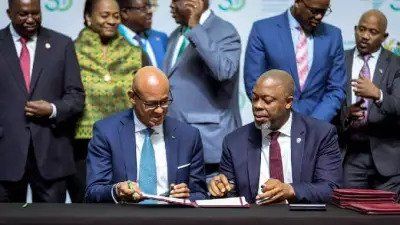 As a leading Pan African Bank with operations in over 33 African Countries, Ecobank is leveraging the abilities of PAPSS to settle payments speedy in its respective operational countries without using foreign correspondent banks. PAPSS will also ensure transparency and regulatory compliance in Ecobank's cross-border payment processes as African Central Banks supervises the payment infrastructure. This partnership will further expand the coverage of Ecobank across Africa.
PAPSS is already connected to some of the largest commercial banks in Africa and remains committed to increasing access to markets and creating a wide network of intra-African trade. Both parties are focused on the growth and development of Africa's economy and, as such, will strive to commit to promoting a wider intra-African Trade.
Focus Box
Company Name:  Ecobank
Industry:  Banking, Financial Services
Founded: 1985
CEO: Ade Ayeyemi
Funding raised: N/A
Revenue: N/A
Customer base: 32,000,000
Key countries: Nigeria, Togo, Ghana, Kenya, Angola
Comments