Social media platform X, formerly known as Twitter, last month launched its Creator Ads Revenue Sharing program, and today, many Twitter Blue subscribers have started receiving payment. The payments are only available to content creators who signed up for its ad revenue-sharing offer. X, owned by Elon Musk, initially stated that payments would occur at the end of July. However, the company experienced delays in fulfilling its promise due to the large volume of subscribers. Today many influencers and content creators in Nigeria and globally have expressed joy following claims of receiving X's payment notifications. Nevertheless, many Nigerians and internet users remain oblivious to what the recent trend has been about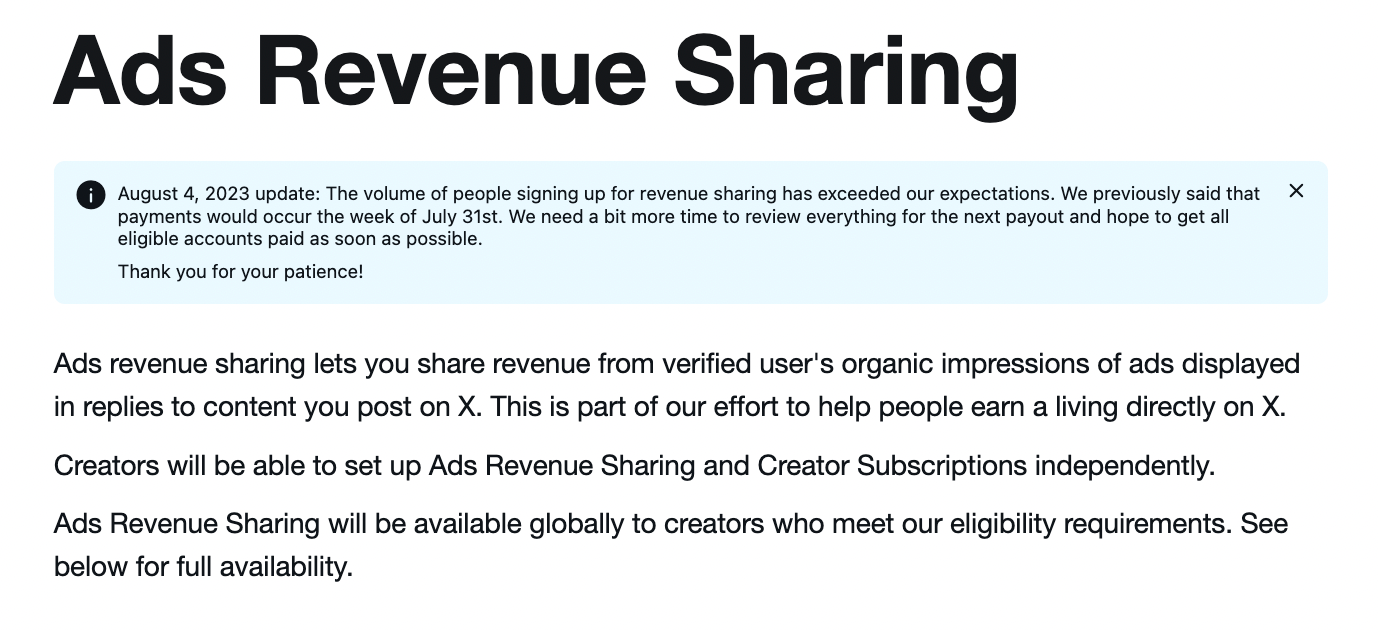 What is X's Ad Revenue Sharing Program
X, formerly Twitter, is monetizing the ads served in tweet replies and, as such, is paying creators for a share of the ad revenue earned from ads served in the replies to their posts. Hence, the X ad revenue-sharing program was designed and introduced to bring marketers back to the platform and reignite the advertisement revenue of Twitter after a significant decline since Elon Musk took over in a deal worth about $44 billion last year.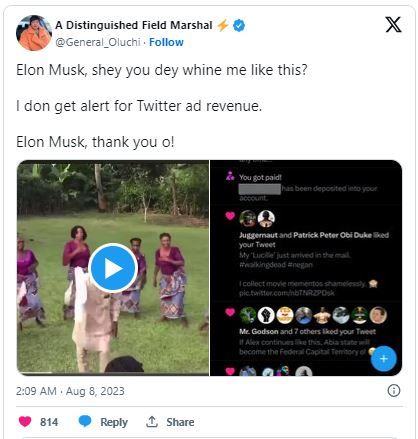 The revenue-sharing program is active globally. According to the company, its payment processor currently supports over 100 countries, including Nigeria, Ghana, Egypt, Kenya, South Africa, and other African countries. The program also represents efforts by X to help people around the world earn a living directly on its platform. Early this year, X had over 4.95 million users in Nigeria, and the numbers are likely to increase as this program and the incentives it presents will also boost digital inclusion in Nigeria as more people will look to engage the company's advertising resources.
How to become eligible for X Ad Revenue Sharing Program
Just signing up and being a user on the social media platform does not make you a beneficiary of the sharing program. According to the company, to be eligible for creator ads revenue sharing, a user must be subscribed to Blue or Verified and have at least 500 followers. In addition, the user must have at least 15M organic impressions on their cumulative posts within the last 3 months.
Comments