The Central Bank of Nigeria (CBN) and the Central Bank of Egypt (CBE) have recently signed a fintech partnership agreement. Signed at the Seamless North Africa 2023 conference in Cairo, the new MoU would foster information sharing and innovation and improve the fintech ecosystem in Nigeria and Egypt. After several months of engagements between both parties, a fintech deal between two of Africa's largest economies will enlarge the possibilities in what many consider Nigeria's most exciting industry.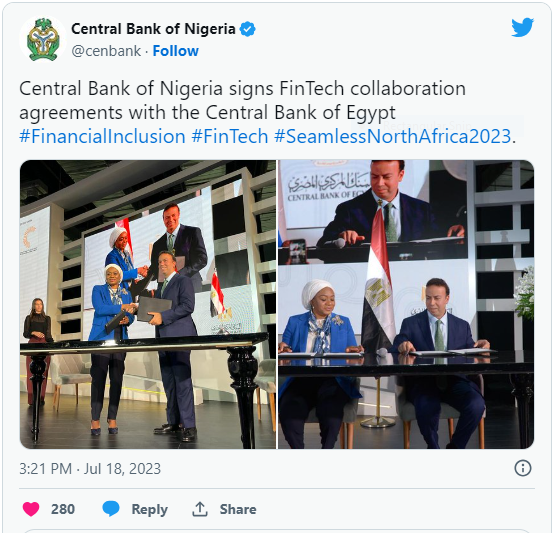 The fintech industry in Nigeria is home to over a hundred companies, and the CBN is keen on becoming the uncontested leader of Africa's innovative space. The industry generated about $440 million in investments in 2020, more than $600 million in 2021, and recorded about $789 million in 2022. The Egyptian fintech also reached new heights in 2022, as investments in the industry reached $259 million. The consistent growth of the industry perfectly proves Nigeria's and Egypt's fintech industry has the potential to lead the African market.
The apex bank has signed a partnership to strengthen the fintech industry's growth pace in Nigeria and Egypt through joint innovative projects and information sharing. The partnership will also enhance coordinated licensing and supervisory frameworks, which could solve Nigerian startups' difficulties in acquiring licenses during expansion to Egypt and perhaps the entire North African region, ultimately improving market access.
The CBN hopes this new partnership will set the pace for exceptional talent discovery in Nigeria's fintech industry. The Seamless North Africa 2023 conference in Cairo was hosted by the Central Bank of Egypt, with about 4,000 policymakers, financial institutions, and fintech startups in attendance.
Comments