Sam Altman, who was fired from OpenAI on Friday after the board said it "no longer has confidence in his ability to continue leading OpenAI", has been hired by Microsoft. Microsoft CEO Satya Nadella announced that Sam Altman will join Microsoft's new advanced AI research team to lead it.
"We're extremely excited to share the news that Sam Altman and Greg Brockman, together with colleagues, will be joining Microsoft to lead a new advanced AI research team," says Nadella. "We look forward to moving quickly to provide them with the resources needed for their success."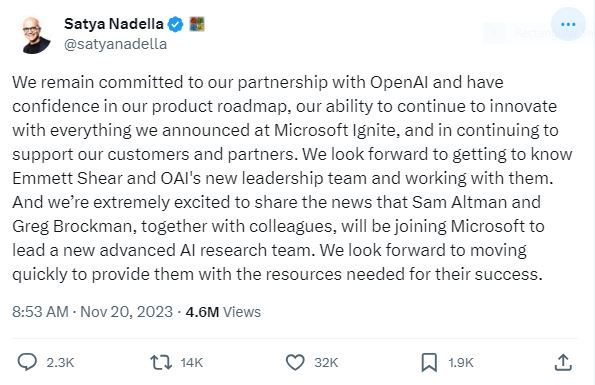 Nadella said Microsoft looked forward to working with OpenAI's new leadership team, including interim CEO Emmett Shear, and remained committed to its partnership with the AI startup, in which it has reportedly invested $13bn.
Altman, who became the public face of AI with the releases of ChatGPT and GPT-4, was abruptly fired on Friday after the company's board determined he was "not consistently candid in his communications". The announcement of Altman's departure sent shockwaves through the tech sector and prompted the resignation of Brockman, president and co-founder of OpenAI. According to The Information, three senior researchers also submitted their resignations following the news.
Comments